Transportation - Heavy Rail, LRT, and Electric Bus systems

Battery powered Electric Bus Fleets
With recent developments in EV infrastructure and eBus fleets it has become increasingly possible that these systems will need to be powered from the Light Rail Transit traction power substations (TPSS). We expand our "Rail" offering to accommodate these systems as well. The same needs are present when connecting high voltage DC to induction motors. The inherent problems revolves around Common mode EMI and RFI propagation so the components used eBus technology will be very similar to those used in LRT. You must place emphasis on isolation techniques for human safety, very accurate current and voltage readings, safely breaking of the DC current path, and EMI and RFI Mitigating and Shielded components for clean DC power, just to name a few.
Best-In-Class Railway Components for Power and Signal Technology
Dynamic Rail works with suppliers of rugged components that stand up to railway standards for Shock and Vibration, EMC, Extended Temperature, Water, Dust and High Humidity. Dynamic has been supporting the North American Railway and Transportation markets for several years. We specialize in providing ultra-rugged electrical hardware for Rolling Stock, Wayside and TPSS applications. Our product experts also keep up to date on compliance standards, environmental concerns, and testing requirements for the transportation market. When specifying safety critical components we consider ourselves solution providers that know the ins and outs of the manufacturers we represent. At Dynamic Rail we understand the challenges your specification brings and we know that piece parts are sometimes not the answer on their own. Our engineers will work diligently to find a field proven railway solution to your problem.
Onboard the Train
Ultra rugged components that have been Railway proven and meet passenger railway standards. Meeting standards for resistance to harsh conditions; water, ice, snow, fire, metal dust and impacts. Standards such IEC/EN60310, IEC/EN45545 HL3, PD4
Train-to-Ground
Communications with main control room and signaling systems
Traction Power
Bringing the electrical power to the system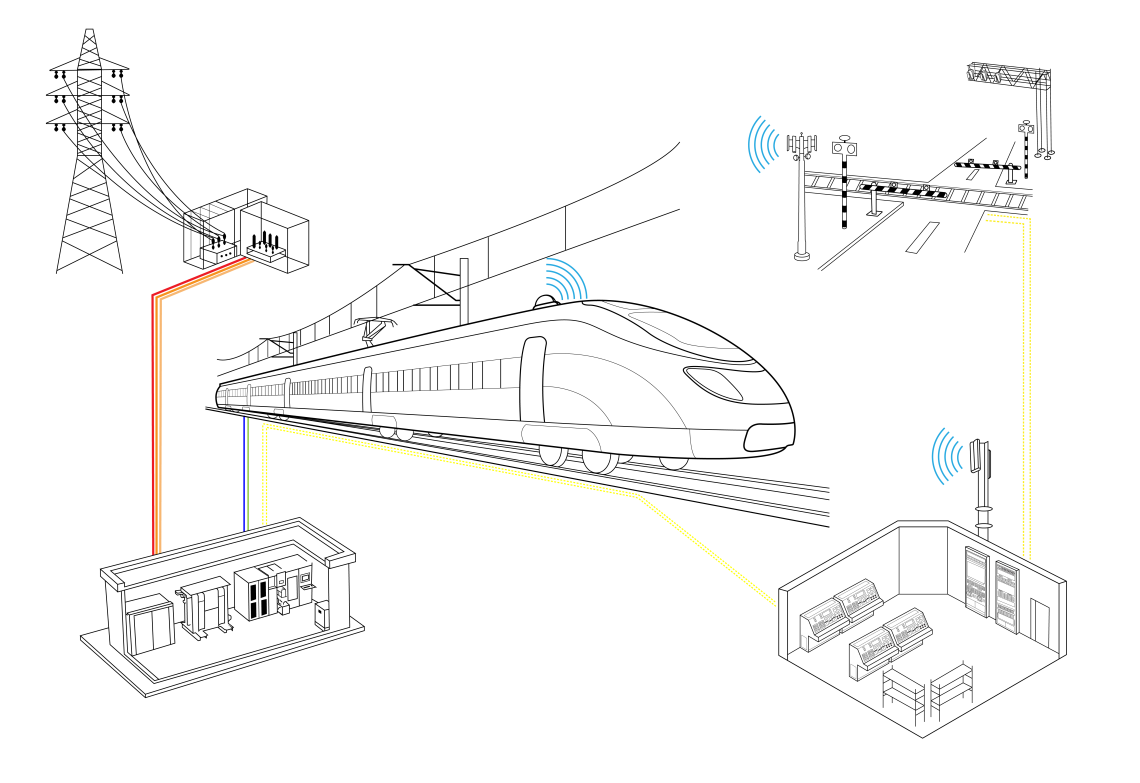 Traction substations are used to convert electrical power as supplied by the power utility (or rail operators own network) to a form suitable for providing power to a rail system (via third rail or overhead line). Depending on the type of rail system this power would be either direct current (dc) or alternating current (ac). For dc systems, the traction substation core equipment will be the transformers and rectifiers used to convert the utility supply to dc. Rectifiers are either 6, 12 or 24 pulse. In addition the dc traction substation will contain circuit breakers to ensure the system is adequately protected and switching devices allowing operation and maintenance of the system. For ac systems, the traction substation core equipment will be transformers which connect to the three phase power utility supply to convert this to a single phase voltage suitable for the rail electrification system being used. Again circuit breakers and switching devices will be provided to ensure adequate system protection and operation and allow for maintenance. Alternating current supply on the traction side is single phase and can lead to imbalance on the three phase utility beyond allowable limits. Balancing devices (Scott transformers, static converters, etc.) are often used to achieve these limits. Generally traction substations will be controlled by SCADA systems and will likely provide power for auxiliary systems such as signaling and other track side purposes. Traction substations have harsher operational and stability constraints than normal power distribution substations. These include being subject to frequent short circuits, transient spikes, voltage depressions and voltage rises. The use of thyristor controlled traction drives generate significant harmonics, affecting the supply system. Given the unique issues associated with rail power, the design, construction and operation of traction substations has many technical challenges. Add into this, loading from many trains running at the same time and modern design is heavily dependent on software support.
Because our products are built to the highest quality and compliance levels we guarantee our rail proven products are reliable and will last. We can confirm these statements with documentation, referrals to other agencies or muni's and MTBF data. Dynamic represents component manufacturers that contribute to better human life and machine safety in railway transportation.
High resistance against harsh conditions like water, ice, snow and metal dust according to EN 60310
Fire and Smoke protection according to EN 45545-2 and HL3
Shock and Vibration EN 61373
EMI / EMC Immunity EN 50155
Pollution degree PD4
Do you want to learn more?

RAIL LINE CARD