With 20 years of experience, Dynamic Measurement & Control Solutions, LLC. offers a full range of rep services for engineers attempting to create effective power systems across various transportation and automated manufacturing industries. We aim to help engineers all over the world solve unique and complex problems where high accuracy and high reliability are a must. We work with parts manufacturers in many countries around the globe and can help align you with exactly what you need.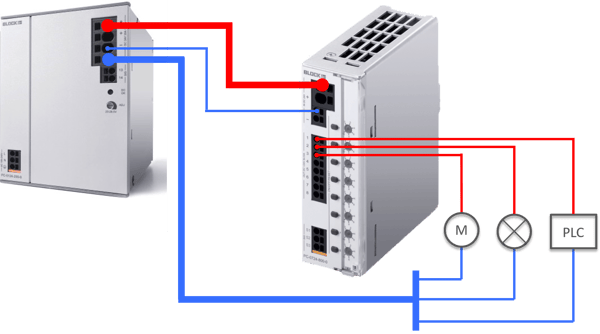 In this blog, we're going to take a look at how the National Electric Code (NEC) remote-control, signaling, and power-limited circuits are classified and how they should be applied. To start, you should know how the NEC defines these "circuits." Circuits are the part of the wiring between all connected equipment and the load side of the overcurrent protection device (OCPD). The circuits are classified by electrical usage. So, for example, Class 1 circuits usually run at 120V but they can run up to 600V, permitted by the NEC. Let's take a look at each circuit type and how they work.
Class 1 Circuits
There are two types of Class 1 circuits as specified by the NEC: remote-control and signaling circuits and power-limited circuits. Remote-control and signaling circuits are 600V and power-limited circuits are 30V and 100VA; however, the power output of the source is limited. The power-limited circuits also have a limiter that restricts the amount of supply current on the circuit in case there is a ground-fault, short circuit, or overload.
Class 1 remote-control and signaling circuits, on the other hand, need to meet a lot of the same wiring requirements as power and light circuits. These circuits can typically be used in motor controllers which operate mechanical processes such as remote-controlled equipment, conveyors, or elevators. Regardless of whether the circuit is AC or DC, it can use the same enclosure, cable, or raceway as a conductor with a different circuit. And a "signaling circuit" usually refers to a circuit that illuminates a light in a control panel.
Class 2 Circuits
Class 2 circuits are usually low-energy (up to 100VA) and low-voltage (up to 30V) loads including things like low-energy voice, sound, intercom, or public address systems, low-voltage lighting, PLCs, security systems, or thermostats. By limiting 30V circuits to 100VA, class 2 circuits are able to prevent electrical fires and electric shock is prevented because the current is limited to less than 5mA.
Want to read more? Power supplies and eBreakers to create safe NEC Class 2 Limited Power source technical info.
Class 3 Circuits
Class 3 circuits are often used for nurse call systems, public address systems, voice intercom systems, and security systems. If the power demand for circuits over 30V is over 0.5VA, but less than 100VA, you'll need a Class 3 circuit. Although Class 3 Circuits are approved for higher levels of voltage, wiring must be 300V or more to prevent it from being an electric shock hazard. Class 3 Cable or its substitutes or PLTC Cable will both work.

Since the NEC is updated and published every three years, it's important to keep up-to-date with any new information that comes along. When it comes to knowing when and where certain circuits won't pass UL inspection, you need to know where to find accurate information. NEC can be very complicated and difficult to navigate, having an expert electrical control specialists on your team to guide you in the right direction is a big help. Here at Dynamic Measurement & Control solutions, we have 20 years of experience with OEM manufacturing, automation control, and working with electrical, mechanical, and design engineers all over the country. If you have any questions or you're ready to get started, give us a call today.