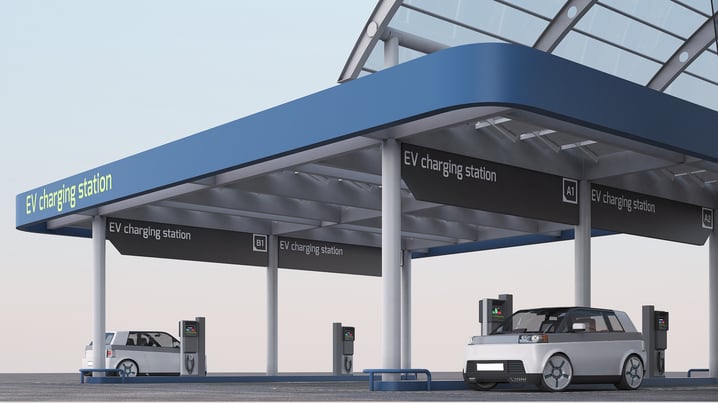 An electric vehicle (EV) network is an infrastructure system of charging stations and battery swap stations, specifically built or designed to recharge electric vehicles. Creating these networks are what many governments, charging infrastructure providers and car manufacturers seek to do. Electric Vehicle charging stations are typically described as electric vehicle supply equipment (EVSE), which is part of an electrical energy distribution system for recharging electric vehicles. Between now and 2030, the global demand for EV charging infrastructure is projected to rise to $140 billion. Without mincing words, the pace of growth in this sector can be attributed to the ongoing innovation, as well as the R&D initiatives undertaken to develop EV charging technology. EV chargers are rated by the amount of energy delivered to the vehicle's battery per unit of time. These different levels of chargers have very different power ratings and charge times for typical EVs, with level 4 being the fastest. Level 1 and Level 2 type chargers are based on AC power feeding the vehicle and typically for at home use, while a level 3 charger, most commonly known as "DC Fast Charging", can charge some plug-in electric vehicles up to and beyond 800 volts. For fast charging, higher power levels are used, and these require specific infrastructure beyond standard domestic or industrial socket outlets, and where the charging can be performed with either a DC or an AC connection between the vehicle and the charging point.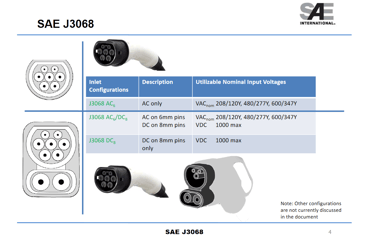 At Dynamic, we concentrate on the level 3 and the "newer" level 4 high voltage and current needed for DC fast chargers of e-Bus and fleet vehicles. Currently North America fleet vehicles revolve around the SAE J3068 standard for medium and heavy duty EV, which allows for charging using 3-phase 480 V (Or 133 kW at 160A), as well as 600 volt AC (166 kW at 160A) since this is readily available at most facilities. While DC fast chargers are moving towards 1000V @ 500A and charging power levels of 50kW, 75kW, 100kW and now even 200kW and higher. Also referred to as CCS quick charging stations, these types of Level 3 and 4 fast chargers are more sophisticated. They take AC power and convert it to DC within the charger before delivering it to the vehicle. This process benefits the future of EVs since they may no longer need the conversion devices on board the vehicle. The weight savings on board the EV may allow for a larger motor and increased performance. In addition, a lighter vehicle in combination with ongoing battery efficiency/capacity improvements will make them go farther; with less conversion devices like the AC Power Electronics, AC/DC Converter, and Inverter. This should make the EV become less expensive to purchase and create more charging network availability.
EV CHARGING MARKET – A brief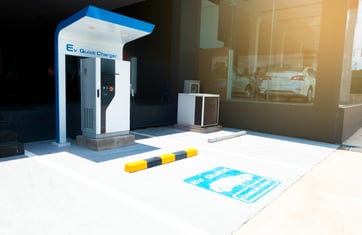 The electric vehicle market continues to develop, and this evolution is bringing increased operational ranges. The global EV Charging market is valued approximately at USD 11.3 billion in 2019 and is anticipated to grow to more than 33.4% over the forecast period of 2020 to 2027. In terms of units, the global electric vehicle charging station market size is projected to reach 30,758 thousand units by 2027, from an estimated 2,115 thousand units in 2020, at a CAGR of 46.6%. In the next two years, the sale of EV charging stations will be on the rise especially for private and semi-public charging. The battery-only passenger vehicle is the key to increasing EV acceptance. The requirements for this growth are not only lightweight high-performance motor drives and high-capacity vehicle batteries, but also a national charging system with high voltage charging facilities in private and public parking lots, city centers, and suburban locations.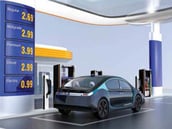 Of course, the ultimate goal to increase EV popularity and ease of use, is to make industrial electric charging stations that resemble and perform like a traditional "gas station". The growing demand for this segment is facilitated by factors such as increased demand for energy-efficient commuting, political support for charging infrastructure through preferential policies, subsidies, and tax rebates, along with the fact that many governments around the world are expected to have announced plans to phase out fossil fuel vehicles from the market within the next 2 decades.
AC VS DC CHARGING PARAMETERS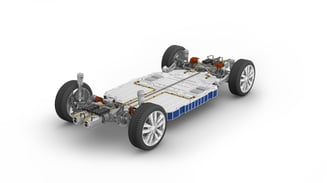 You probably know DC is faster than AC as there is less resistance for the electrical current. That is where most people's knowledge will end as they don't care to know more and don't need to understand beyond this. As an engineer, you may be interested in knowing more! A key advantage of DC is that it is easy to store in batteries – a reason why portable electronics like cell phones, flashlights, laptops, etc. use DC power is because of storage density. Plug-in vehicles while also being portable/mobile utilize DC energy storage too, although it is not uncommon to find some have AC motors. Switching back and forth makes electricity a little more complicated. However, just like DC, a key advantage of AC and the motors is it can be transmitted very easily, is highly efficient, and will require less maintenance. In the EV applications this helps with efficiencies such as the process of AC regenerative energy. The physics of braking creates energy and by reusing the braking power you can create more stored energy.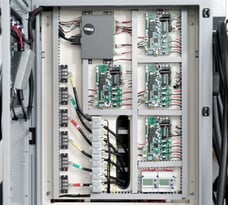 For EVSE, AC power means more availability over larger areas. Therefore this has become the most common charging method for electric vehicles with a plug. When plugging an electric vehicle into a normal charge point, the DC link (power conversion) is inside the vehicle, then moves into the car battery. As far as electric vehicles are concerned, the converter is built inside the car. This is known as the "onboard charger" though it really is a converter. It converts power from AC to DC and then feeds it into the car's battery. This has been the most common charging method for electric vehicles recently and most chargers use AC power. The difference between AC charging and DC charging is the DC link location being either inside or outside the car. Unlike AC chargers, a DC charger's power conversion is done inside the charger itself. Thus, it can feed power directly to the car's battery and doesn't need the onboard charger to convert it then the car (EV) will have less resistive and inductive components to slow this process down. DC chargers are bigger, faster, and an exciting breakthrough when it comes to EVs.
Battery Packs and the Electrical Grid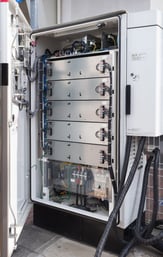 Battery packs are typically charged at high DC voltage levels of around 450V. It takes about 60 minutes to charge the batteries to 80% capacity for a 250-mile journey. The average charging capacity is a maximum of 50 kW. Since the charge plugs presently have a fixed 200A continuous load, the existing 400V output can only be at a maximum of 80 kW. To cover a 250-mile trip, it is difficult to decrease the full charge time to less than 50 minutes.
The maximum usable charging capacity of a 480V three-phase AC grid, due to the necessary fusing and other elements, is limited to 22kW (32A) or 43kW (63A). Charging with direct current (DC) does not have these limitations and thus is favored for fast charge lithium-ion and lithium polymer type traction batteries. The newest possibilities in EVSE charging are battery-integrated design where there are batteries inside the EV charger itself. This allows for collecting and storing energy form the regular AC grid and easy connection to already existing electrical infrastructure without the need for utility scale construction and permits. Another huge advancement is the semiconductor based Gallium Nitride and Silicon Carbide battery technologies. These can withstand higher operating voltages due to their natural bandgap properties. These semiconductor energy storage advancements will lead to higher battery voltage storage levels and ultimately improve upon direct DC charging.
In summary, the biggest fear of EV manufacturers is failure of electrical infrastructure. It is a huge investment of capital to run the utility scale substations to a remote area. Faulty charging equipment, blackouts/brownouts, unstable power grid, maybe even "power supply stations" going out of business could potentially lead to abandonment of the EV. This has a more dramatic impact than if gas or diesel fuel stations disappear because energy reserves in an electric vehicle are lower and the charging station network is much smaller. Sophisticated power electronics and electrical components represent a key technology for EV and EVSE to ensure the mobility of the future. If designed thoughtfully, a quick-charge outdoor station could run reliably and safely for 20 years. It is of the utmost importance that the electrical system components not only be designed to cover a wide temperature range for high accuracy and low losses, but also for a high degree of reliability (MTBF).
A more comprehensive and detailed analysis on this topic can be found in this whitepaper. Take a look if you want to learn some more. Dynamic has many years of experience with electrical components, EV, EVSE, and electrical infrastructure design. Should you have electrical issues or want to improve your design, our engineers will assist you with proper component selection so that you have an end product. Get in touch now to discuss your DC charging application.