Sealed Enclosure Cooling for Harsh Environments
enclosure cooling products effectively dissipate heat from sealed electrical and electronic enclosures operating in indoor, outdoor and other types of environments. These products are applicable in diverse industries including Industrial Automation, Food Processing, Chemical, Petrochemical, Wastewater Treatment, and Telecommunications.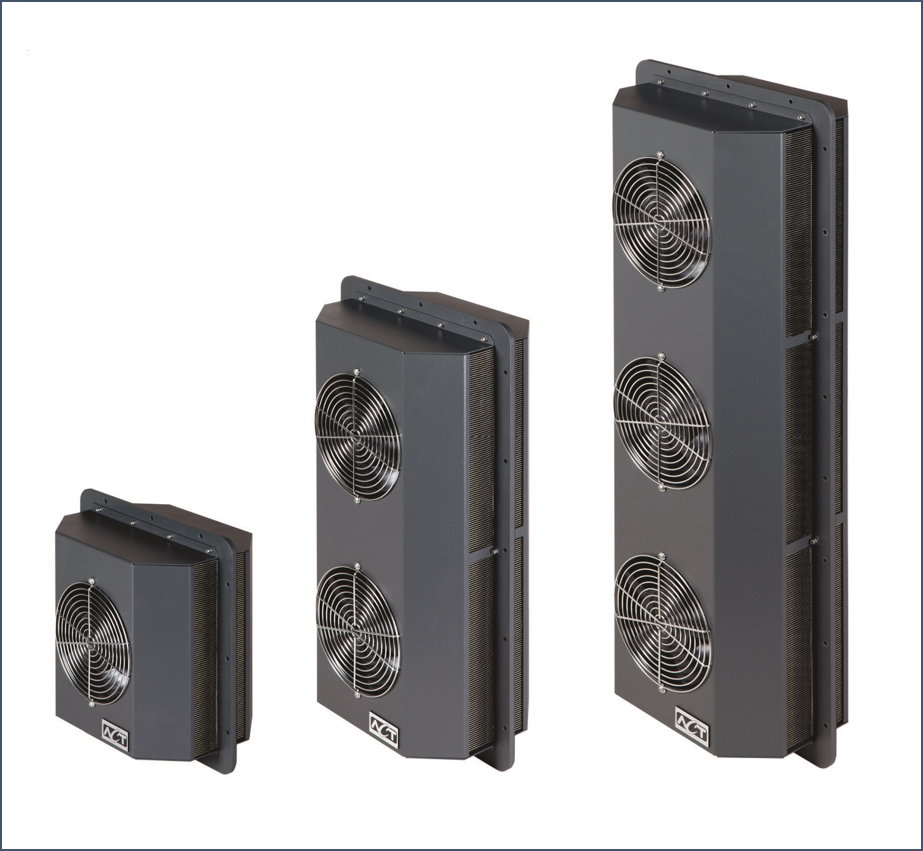 In addition to dissipating heat, these products also help keep dust, moisture, mold and other potentially damaging contaminants away from electrical equipment, leading to enhanced reliability. Heat sink, heat pipe, thermoelectric and vortex coolers are especially useful for keeping components clean. The National Electrical Manufacturers Association, or NEMA, has established standards for how effectively electrical enclosures protect what they contain. Our enclosure cooling products meet NEMA standards 12, 3R, 4 and 4X.
Cabinet cooling technology is highly reliable, especially above-ambient solutions, which have so few moving parts. Unwanted heat can come from both internal and external sources, although the heat the equipment produces is usually the primary source. If there aren't any additional energy interactions, a device's heat output will equal the power input — More efficient components produce less waste heat.
Heat Sinks
Heat Sinks can absorb thermal energy (heat) with minimal temperature rise. The advantages of a Heat sink style cooling unit:
Passive sealed enclosure coolers consisting of two high performance, aluminum finned heat sinks bonded to the opposite sides of a common mounting plate

High performance/cost ratios due to the innovative use of advanced heat transfer and manufacturing technologies

"Thin profile," i.e., only 3.70" intrusion into the enclosure

Minimum number of penetrations by cover fasteners, mounting fasteners and external fan wires

Dual axial ball bearing fans for years of maintenance free operation


Easy to install
Heat Pipes
Thermal management is all about moving heat from one point to another, away from components that need to stay cool. One of the most effective ways to move heat is with heat pipes. There are various applications for heat pipes from handheld devices to data centers and beyond. Heat pipes are made up of several components: a wick structure, fluid, and a containment unit.
Heat pipe cooling has the best performance/volume ratios.
Best performance when installed vertically through the top wall (roof) of the enclosure

Performance may decrease slightly when installed horizontally through a side wall of the enclosure (Contact ACT for details)

Smaller opening footprint on the enclosure wall than the HSC-series

Dual axial ball bearing fans for years of maintenance free operation

Also easy to install
Thermo-Electric Cooling
Thermoelectric Coolers are compact solid state air conditioners. They cool the internal enclosure space with highly reliable Peltier cooling.
The Peltier cooling cycle involves no moving parts, compressors, CFC refrigerants or circulating liquid.
They feature a very long life as they are not vulnerable to refrigeration leaks.
They exceeded the rugged industrial requirements of operating 24 hours per day, seven days per week.
This type of enclosure cooler can be used in wash-down spray-down applications or mounted directly to outdoor cabinets to
operate flawlessly year around.
Dual mode operation of cooling and heating are available, as well. These can be built in a corrosion resistant NEMA 4X, 316 stainless steel version too.
Heat Exchangers
One of the most effective tools for cooling is a passive energy recovery HVAC heat pipe system. Most business owners start seeing a significant return on their investments after one to two years from installation. Since it's a passive system, there are no moving parts that could break or wear down. We have engineered our heat exchangers to be both efficient and compact. Speak with a consultant at Dynamic Measurement and Control Solutions to see if this technology will be a good solution for your system.
Learn More
Enclosure coolers have a diverse range of applications throughout various industries such as automotive, medical, military, solar energy, and much more. If you believe your company could use any of the cooling products or services that we have to offer please contact us today. We'll work hard to understand your company's needs as well as your own personal goals to align you with products that will make a difference.