Electrical Measurement, Signal Converters, Sensors and Loop Transmitters
Interface Technology
High-precision signal conditioners and transmitters for demanding applications and maximum reliability.
Universal signal conditioners for measuring DC voltages and currents with galvanic isolation, active and passive isolators for standard signals, repeater power supplies for 2-wire sensors, transmitters for temperature and AC signals, transducers for high voltages and shunt applications. Switchable calibrated input ranges and flexibly selectable standard signals on the output allow for a broad range of applications. Inventory costs are reduced and operation is simplified.

The ProLine's intelligent circuitry minimizes failure rates and achieves MTBF values of up to 1030 years. The high quality is ensured by careful product development, comprehensive design verifications and 100% routine tests. Warranty: 5 years.
International certifications such as UL, CSA, CE, GL, SIL, KTA, ATEX, GOST allow the devices to be used worldwide. This applies particularly to the models with broad-range power supply. Isolators of the ProLine series provide crucial benefits for applications with high demands on isolation, signal transmission speed and long-term stability.
Temperature Transmitters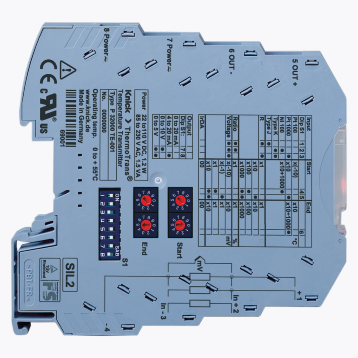 A temperature transmitter is a device used to transmit signals from a temperature sensor onto a measurement control device like a data logger, display, or recorder by sending a standardized output signal. In manufacturing plants, a common output would range from 4-20mA or 0-10V DC, 4mA representing zero degrees Celsius.
Analog Signal Converters
A universal signal converter is used in situations where temperature, pressure, weight, and speed are measured. An Analog Signal Conditioner will assist the signal and prevent it from fading as it is transmitted to the control room. These devices are typically used in power plants, steel production facilities, water plants, chemical processing plants, and more.
Knick Interface's products offer a wide range of output options and selectable calibrated input ranges, meaning they can be used in a variety of applications and result in simplified operation and reduced costs.
Current and Voltage Transducers

Measurement of DC or AC voltages up to (±)4800 V and of high DC currents up to approx. (±)20 kA via shunt resistor or directly in the device up to (±)5 A DC and AC. Versions with calibrated range selection. Working voltage up to 4800 V AC/DC and test voltages above 16 kV AC. These products bring precise AC and DC measurement to electrical applications across a wide range of industries. Knick devices world renowned for ensuring safety by way of high voltage galvanic isolation across input, output, and power supply channels. With quality craftsmanship and sound design bring peace of mind to your critical measurement with a 5-year warranty. High quality is ensured through careful product development, comprehensive design verification, and 100% routine testing.
Railway Systems
Railway systems must meet the toughest requirements. In addition to maintaining a high level of uptime for passengers and cargo, personal and machine safety considerations must also be considered.
Knick Interface specializes in voltage and current measurement devices optimized for Railway operation.
Applications:
Protection of traction power systems within DC substations

Overall energy measurement on Rolling-Stock (per EN 50463)

Monitoring of converters, drives, and accumulator batteries
Energy Production
Energy production requires regular measurement of the power being produced. Monitoring of voltage and current at different steps of the production and conversion processes is also important to gauge performance of the equipment used within the systems and facilities.
Applications:
Measurement of DC electrical energy production in Wind Power

Voltage and string current monitoring of inverters on solar arrays for Photovoltaic systems

Current measurement and isolation on excitation systems used within Hydro Energy
Machines and Process Systems
Machines and Process Systems produced by electrical equipment manufacturers are only as dependable as the components used within them. Operation of this equipment, within the many industries they serve, must o­ffer safety, precision, and reliability. Voltage and current measurements are often critical pieces of this operation. Machine builders use this data as just a voltage presence sensor or for specific measurements like energy optimization and feedback signals for things such as predictive maintenance. In rugged environments found within heavy industrial processing plants, the need for a robust electrical system is especially true. This equipment requires electrical systems with high isolation amounts for safety purposes and measurement accuracy. Galvanic isolation not only helps with accuracy but can minimizing effects seen with noise and ground loops encountered within these electrically noisy environments.
Applications:
Current and voltage measurement for high voltage drive systems

Voltage and current data collection for energy optimization and predictive maintenance

Control signals for high voltage electrical test equipment

Current measurement and isolation in high voltage motors

DC voltage monitoring on overhead cranes

Energy storage levels for backup power systems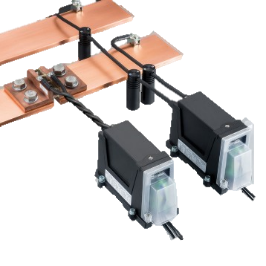 If we can be of assistance with your current and voltage measurement applications, contact Dynamic Measurement & Control Solutions today. We're always here to provide you with professional project consultation and engineering support. We want to align you with the perfect solution to your problem. We will thoroughly research your request and get you the reference material or documentation you need to maintain efficiency, safety, and affordability.