Industrial connectors are critical components in a wide range of industrial devices because they enable the secure transmission of signals. They perform numerous tasks and support various applications. Connectors are essential for routing signals and power between devices in nearly every industry, including industrial machinery, aviation, medical equipment, robotics, communications, test & measurement, and many more.
Despite their simple look, connectors commonly operate in complex electrical networks. However, you should note that not all industrial connectors are designed to withstand severe environmental conditions, withstand high temperatures, or are robust enough to withstand high shocks and constant vibrations. The below connector information will help you better understand connector requirements and hopefully make it easier to locate the correct type for your specific industrial equipment.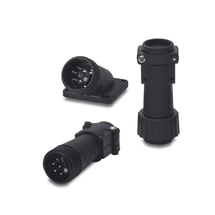 There are normally six stages of interconnection in industrial connectors.
Level 0 refers to the connection between a basic circuit element and its lead, such as the connection between a semiconductor chip and the lead frame.
Level 1 is the connection between a component lead and a printed circuit board (commonly referred to as a PCB), and examples of Level 1 include chip carrier sockets, dual inline package (DIP) sockets, and switches.
Level 2 refers to the connection between two or more PCBs and a motherboard-daughterboard connection is common.
Level 3 is usually a cable connection between two subassemblies, like a plug-in power supply and laptop.
Level 4 is slightly more substantial like the system's input/output (I/O) port.
Level 5 refers to the connection between physically different systems, which is often represented by the link between a computer and a printer or other piece of peripheral equipment, or by the components of a local network.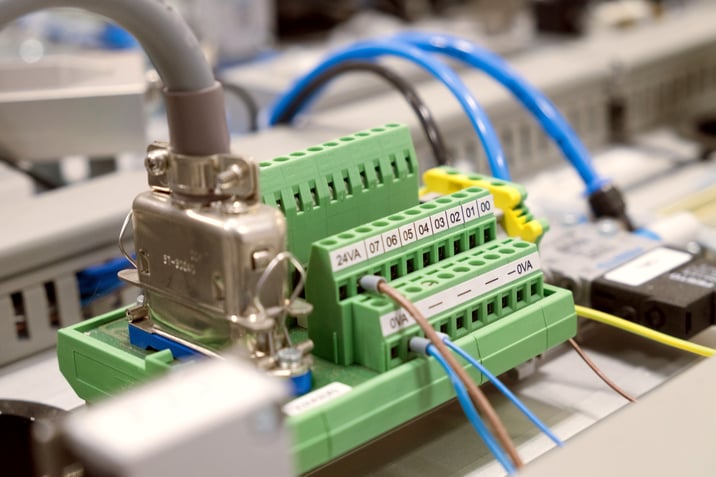 In addition to the various levels of interconnection found within industrial systems, there are also four types or groups of industrial connectors, based on their termination ends:
1. Board-to-Board connectors
2. Cable-to-Cable connectors
3. Wire-to-Board connectors
4. Panel Feedthrough (connectors and receptacles)
Let's look at them in order ...
1. Board-to-Board Connectors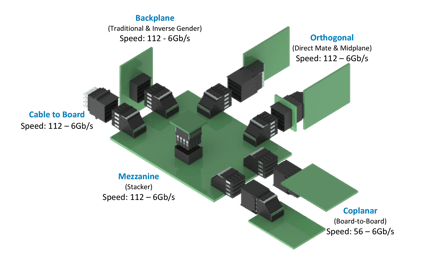 Board-to-board connectors are used to connect PCBs without the use of a wire. Because of their ability to reduce wire clutter, board-to-board connectors are appropriate for systems with limited space. While connecting the printed circuit board, these connectors can either be in a parallel or perpendicular layout. "Mezzanine connector" is a frequently used phrase by engineers to refer to printed circuit board configurations perpendicular to one another, and it is a connector that joins two PCBs in stacking configurations typically used for motherboard-daughterboard.
When you need to select a mezzanine connector, there are some parameters, mechanical requirements, mounting types, and constraints that must be considered. These include stack height, tolerances, standoffs, brackets, or chassis slots and frames. The degree to which a connector may be detached, the number of mating cycles required over the course of its lifetime, and the minimum and maximum insertion force all affect separability, and all mezzanine connectors must follow EIA 700AAAB standards.
Another term that you need to be aware of in board-to-board connectors is backplane. Simply put, a backplane is a collection of parallel electrical connectors of which each of these is connected to its corresponding pin on all the other connectors to form what is called a connector bus. Backplane systems are applicable in computer and telecommunication systems because of their adaptability and dependability. With the backplane method, you can create a comprehensive backplane system by connecting numerous plug-in cards along a single backbone. The signal from the transmitter travels through several connectors before reaching the receiver, and for devices used in high-speed applications, the signal integrity of the backplane system must be high.
It is common that difficulties like weak signals, reflection, crosstalk, and inter-symbol interference (ISI) may arise as the data rate increases. The resulting effects of these difficulties degrade channel jitter performance by increasing noise, decreasing signal amplitude, and slowing down signal edge rate. To prevent difficulties with backplane systems, all backplane system connectors must have adequate impedance matching and shielding. Additionally, the connectors must resist numerous circuit board insertion and removal cycles.
2. Cable-to-Cable Connectors
Cable-to-cable (or wire-to-wire) connections are used to link two wire-terminated connectors and are widely applied in electrical, electronic, and computer connectors. For this type of connector, the number of circuits (or positions), wire size, and mating gender are some general requirements. In a wire-to-wire connector, you may find up to 50 circuits. The American wire gauge, or AWG, is a non-ferrous wire conductor size standard that is commonly used to measure wire size. The "Gauge" itself refers to the diameter of the wire, and as the gauge number increases, the diameter of the wire and temperature range decrease. In use cases where very high current is required, a thicker wire is preferred as it conducts more current because there is less electrical resistance.
When you need to select a cable-to-cable connector, there are some factors you should take into consideration. Durability, pitch, plating material, orientation, temperature range, and more importantly, termination method must all be considered. Just like any other types of connectors, electrical and mechanical requirements also apply to wire-to-wire connectors.
For electrical safety you need to know the maximum current and voltage, withstanding voltage, contact and insulation resistance, and the number of contact points that will be carrying current. Mechanically you will need to consider the wire pull-out force, maximum contact insertion force, minimum contact retention force, and the actual mating force.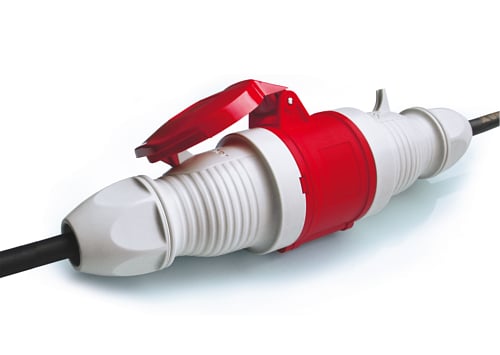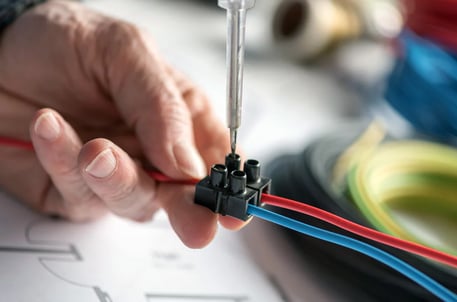 3. Wire-to-Board Connectors
The Crimp technique is often used in wire-to-board connectors to attach a wire to a printed circuit board (PCB). Once the connector has been crimped to the wire, the contacts or terminals may be inserted into the matching housing to complete the interconnection. Insulation displacement contact (IDC) and surface-mount technology (SMT) connectors are two additional wire-to-board connectors.
Wire-to-board connectors offer simple, dependable, cost-effective solutions, and are used for electrical transmission to PCBs. In fact, because of their versatility and durability, these connectors have applications in telecommunications, automotive, commercial, and industrial sectors. However, some technical hurdles have previously been witnessed with wire-to-board connections due to their large size, but these have been improved upon in newer, better-designed wire-to-board connectors. With new more compact designs, wire-to-board connectors have increased usability for automated surface mount assembly, thus allowing for faster manufacturing of your control devices with an increase in dependability and lifespan.
Unlike the other types of connectors, wire-to-board connectors do not have standard designs. Therefore, the type of connector you select will depend on your requirements, applications, and other use cases.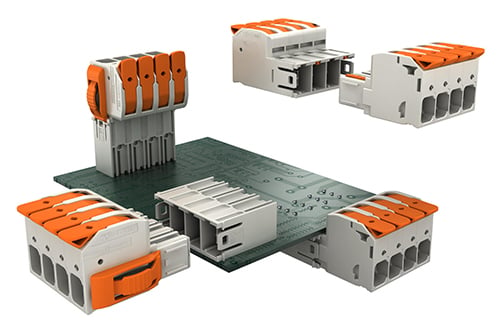 4. Panel Feedthrough connector
In many industrial applications, large cables need to pass through panels and walls. Simply punching a hole will not make allow for an environmental seal and machinery tends to vibrate so those cables would be subject to abrasions, cuts in the cable jacket, and possible damage to the internal wire. You will also have a hard time disconnecting the wire or cable if that ever needs to happen. In a production line or manufacturing environment, a pluggable connection is ideal for assembly, disassembly, and testing. The sealed industrial panel feedthrough connector will be able to withstand extreme temperature changes, moisture, exposure to chemicals, oils, and UV exposure.
Industrial connectors are usually heavy-duty products for transmitting data, electrical signals, and power ... or all of them in one connector. This group of connectors is called panel feedthroughs or bulkhead connections and they make manufacturing easy, eliminate cable abrasions, and provide excellent strain relief for the cable. The large terminals have a mounting face that can be sealed and gasketed to provide a water-tight installation. This makes them perfect for passing high-current cables through walls, panels, enclosures, and bulkheads.
If you need to manage large cables in and industrial environment including factory automation, process control, and medical technology applications, panel feedthrough connectors are most suitable for you.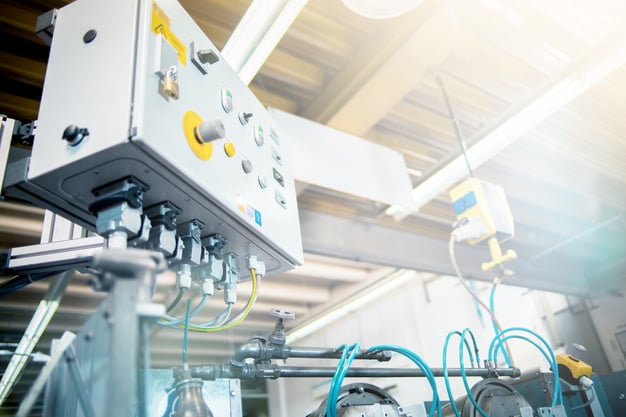 Some Applications of Industrial Connectors
As you've already seen, industrial connectors are required to transmit signals from cables to other devices or parts of the machinery in most industrial systems. However, largely because of the different classes, groups, or types of industrial connectors available, not all of them can be applied for the same requirements. In another word, different connectors meet different applications requirement. Now, we will look at some of the most widely consulted application areas for industrial connectors and also give you expert advice and recommendations on the best and most suitable industrial connectors for your industry.
Industrial Applications: Never have industrial manufacturing engineers, machine builders, and control panel fabricators been under greater pressure to build reliable and robust interconnected devices. The increase in automation and applications requiring internet connectivity means more connector needs. This makes the industrial environment extremely demanding for connectors, as they are subject to mechanical, chemical, and even electrical stresses like extreme temperatures, vibration, shock, and corrosive elements. Some use cases of common industrial applications include process control systems, automotive manufacturing, industrial robotics, semiconductor manufacturing, and food & beverage processing, among others.
Some of the recommended connectors for industrial applications include Pin and Sleeve, Modular, Circular, M12, M8, Ethernet, USB, and D-sub.
Military Applications: Connectors built for military applications are expected to withstand high-impact shock, corrosion, & extremely changing temperatures, in addition to other combat conditions. These types of connectors for military applications are designed to operate over a wide temperature range and possess more powerful capabilities. The M24308 is a US military standard for D-sub connectors, with a typical M24308 d-sub connector including ruggedized tablets and laptops, voice and data communication systems, GPS receivers and hubs, and portable power supply units.
Some of the recommended connectors for military applications include Threaded, Bayonet, In-line, and Electrical Connector.
Communications Applications: For optimized and reliable performances in data and network servers, routers, monitors, storage systems, support equipment, and other computer peripherals, rugged connectors and cable assembly solutions are undebatable.
Some of the recommended connectors for communications applications include Coaxial, D-sub, Fiberoptic, RJ45, USB, HDMI or Display, SCSI.
Medical Applications: In medical equipment and devices, cables and connectors serve as a medium for transmitting power, data, and control signals. Industrial connectors and cables that will meet medical applications requirements must be able to withstand harsh medical and chemical conditions, while also meeting other application requirements such as mating cycle, quick connect/disconnect capability, good EMI/RFI performance, high IP rating, and many more. These industrial connectors and cables can be found in various clinical settings including surgical devices, and therapeutic and diagnostic equipment.
Some of the recommended connectors for medical applications include push-pull and circular connectors with medical approvals.
Transportation Applications: Connectors for mass transit, railway, off-road heavy equipment, and commercial marine applications must be rugged and be able to withstand demanding requirements such as being accommodating to extremely harsh environments and resistant to mud and corrosion. These connectors are also essential for applications that require high reliability, such as lighting, doors, sensors, and brakes.
These will be designed for harsh environments and meet the highest standards for shock and vibration, EMC, extended temperature exposure, water ingress, dust and high humidity. Some of the recommended connectors for transportation applications include ruggedized hybrid connectors, circular connectors, power connectors, and data connectors.
Are your industrial applications or connectors design requirements not listed here? Reach out to us to discuss your specific needs and we will provide you with a standard or custom-engineered connector solution that is most suitable for your industrial device.
If you find our article on the types, components, and applications of industrial connectors useful, you may also want to check how to select the right industrial connector for your devices. We would love to have you join other machine and electrical control panel builders on LinkedIn where we share insights and stories that are helping our engineers build awesome products and manufacturers get these products to the market faster.
Should you need help in any way with your industrial connectors or other electrical control components, feel free to reach out to us.