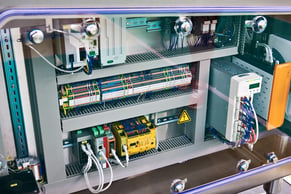 1.1. INTRODUCTION
A recent survey conducted by a major manufacturer of electrical components revealed that over 50% of OEMs expressed some degree of difficulty locating SCCR information for components needed to design an UL508A-compliant solution. Roughly 50% of them also stated that they found it difficult to apply or interpret the standard that determines the panel SCCR. It is of great necessity that designers and engineers keep up with UL508A guidelines, especially in relation to SCCR compliance. The misapplication of devices could be the catalyst for major production and design delays or a much worse life safety disaster.
2.1. WHAT IS UL508A
UL508A is the standard for the construction of Industrial Control Panels (ICPs). It is used as the guidelines to prevent safety issues. This includes: component selection, calculation of short circuit ratings, and proper wiring methods. These guidelines are used to insure regulatory compliance for for constructing the industrial control panel.
According to UL, and NEC section 409.2 industrial control panels are "an assembly of two or more power circuit components, control circuit components, or any combination of power and control circuit components. These components are typically switches, terminal blocks, contactors, motor drives, transformers, overcurrent protective devices, and the like."
In summary, the UL508A standard is, in essence, a handbook on the proper construction and manufacturing practices to build industrial control panels. It provides an outline detailing the steps and type of components required to construct the panel and how to apply those standards to each component. The most important thing to understand is the UL508A standard is the guide you follow for proper placement of the components within an electrical panel.
The major advantage of acquiring UL508A certification is the assurance and trust in a high level of quality and safety. With a UL508A certification attributed to the panel this also aligns with the compliance to the National Electrical Code (NEC).
In this article, we will discuss some of the most common problems that accompany the application of the UL508A standard.
3.1. MOST COMMON CHALLENGES AND MISAPPLICATION OF THE UL STANDARDS
Applying the incorrect standard
Selection and dimensioning of components
Supplementary protection instead of branch circuit protection
Enclosures
Power supplies (R/C vs. listed, industrial device instead of Class 2)
Nameplate, circuit diagram and warnings
Traceability of the certification, e. g. for cables
Frequency drives are incorrectly protected
Feeder and branch mixed up
Short circuit current rating incorrect or missing
3.1.1. SELECTION AND DIMENSIONING OF COMPONENTS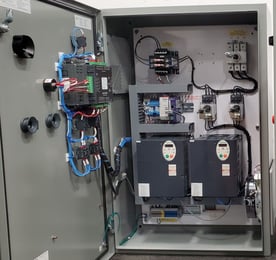 One of the main challenges in panel construction is the selection and dimensioning of components. The selection of the correct components can be difficult due to a large number of existing components that are similar, the desired application area, and the required specification according to the applicable standard. You must also understand the difference in UL in a 'UL-Listed' component vs. a "UL-Recognized" component and how to apply. The second biggest challenge that is often overlooked is maintaining the proper creepage distances between the components themselves. The incorrect selection of one or more components can lead to rejection and serious delays in the acceptance and certification of the panel.
In order to ensure the selection of components and dimensions is aligned with the UL508A standard, it is advised that engineers work closely with a UL508A-qualified manufacturer's technical representative (MTR), if you don't have one on staff, Dynamic can help! This will ensure accurate interpretation and application of the requirements regarding the UL508A industrial control panels standard.
3.1.2. ENCLOSURES
In Europe, enclosures are classified according to IP Rating and in North America according to Type Rating (protection class required by the NEC). The IP Rating is not a substitute for the Type Rating and therefore cannot be adopted interchangeably for enclosures in the North American market. In this market, the enclosures must be UL Listed (protection class according to the environmental conditions).
The enclosure type ratings are 3, 3X, 3R, 3RX, 3S, 3SX, 4, 4X, 6, and 6P.
A list of the Type Ratings, their applications, and the environmental conditions for which they are designed to protect against can be found in section 5.8 of UL 50, the Standard for Safety for Enclosures for Electrical Equipment, Non-Environmental Considerations.
A further challenge for enclosures is the openings for components, e.g. for wireways or ventilation. In order to keep a given Type Rating (other than 1), all component openings must be equipped or covered with UL Listed/Recognized parts that maintain the enclosures "Type Rating".
Tables 19.2 and 19.3 of UL508A help to identify the correct markings that these components must possess for your application as well.
3.1.3. APPLYING THE INCORRECT STANDARD
During the UL inspection or certification (listing or field evaluation) of your machines electrical panel, it could be identified that one of the components used had the incorrect standard applied. In simple terms, the designer used an electrical component that was not valid for the intended application even though it may have contained a UL marking. This is one of the most common reasons a panel will be rejected by the code authority.
This can lead to significant delays, which may require additional steps and extra work. This results in an extension of the project deadline, as well as additional costs, and reduced customer satisfaction. While IEC/EN guidelines and standards for panels that are followed in many countries, other unique and important standards also exist for the North American market (NEC, CEC, UL508A, UL98, UL489, UL1077, CSA C22.2 No. 286-17, NFPA 70, NFPA 79).
Again, it is advised that engineers work closely with a UL508A-qualified manufacturer's technical representative (MTR), as this will ensure accurate interpretation and application of the requirements of the UL508A industrial control panels standard. If you do not have one Dynamic can offer you design assistance from the very start of your project and you can insure your design will pass inspection and certification.


Engineers should also note that UL508A is not intended for the following types of applications:
Fire pump controllers, covered under UL 218, the Standard for Fire Pump Controllers
Panelboards, covered under UL 67, the Standard for Panelboards
Panels in hazardous locations, covered under e.g. UL 1203, the Standard for Explosion-Proof and Dust-Ignition-Proof Electrical Equipment for Use in Hazardous (Classified) Locations
Industrial control panels with intrinsically safe (IS) barriers, covered under UL 698A, the Standard for Industrial Control Panels Relating to Hazardous (Classified) Locations
Motor control centers, covered under UL 845, the Standard for Motor Control Centers
Fire protective signaling systems, covered under CAN/ULC S561, Installation and Services for Fire Signal Receiving Centers and Systems
Dead-front switchboards, covered under UL 891, the Standard for Switchboards
3.1.4. THE UL508A IS A STANDARD FOR COMPONENTS
A correction must be made to a general misconception as regards UL508A, engineers should understand that the UL508A standard is not focused on individual panel components. Rather, the UL508A standard is a guide for the layout and application of the components within the panel. For panel components, selecting those that align with the UL508A standard can be achieved by adhering to the guidelines in UL's Supplement SA document (requirements for components used in control panels) and the Supplement SB document (direction on calculating overall assembly SCCR).
In order to ensure high levels of performance and safety, engineers must carefully select components in accordance with the supplementary documents (SA & SB) and then place them in the panel in accordance with the UL508A standard. Care must also be taken to ensure each component is installed according to the manufacturers instructions using the laid-down guidelines. The complexities and uniqueness accompanying each component can be misinterpreted or misapplied, which leads to problems down the road. Working with a well qualified and experienced company such as Dynamic will insure your manufacturing personal are properly trained and heed the manufacturers instructions. We are also "always" available when there is a problem and can help correct mistakes.
4.1. BENEFITS OF STRICT ADHERENCE TO THE UL508A STANDARD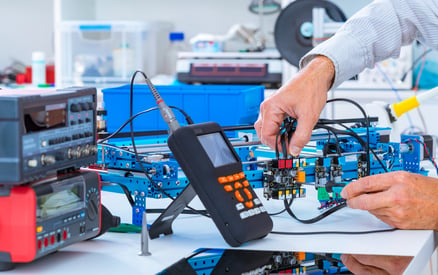 TRUST: UL certifications are trusted globally, and some argue that they are the most credible form of third-party certification. With this in mind, it's easy to see how having the UL Mark on your device will create instant trust and credibility.
SAFETY: Companies that achieve certification by UL will also be seen as having very safe devices and equipment. This benefits the manufacturer of the ICP in multiple ways. Benefits can accrue in the form of reduced or non-existent equipment breakdowns and repairs, worker safety, repeat business for OEMs, and reduced risk of litigation following an avoidable disaster.
Electrical Code Confirmation: Strictly adhering to the UL508A guidelines also ensures that the panels conform to the National Electrical Code in the United States and the Canadian Electrical Code in Canada.
Ease of Use: Adherence to the UL508A standards inducts a company and its products into an "elite club" of sorts. Due to the widespread adoption of UL standards in general, it is much easier to find other components that work well with the panels.
Improved Competitiveness: When your company adopts the use of UL Standards for the production of its equipment, your company's level of competitiveness increases. The increased efficiency and effectiveness of your equipment will lead to increased efficiency and effectiveness of the devices you sell to customers, which will in turn make your customers' operations more effective and efficient. This customer satisfaction will increase customer retention and should lead to a boost in profits for the business.
Better training: UL, continues to work with regulators and companies that adopt its standards to develop best practices. Access to this network of institutions and the best practices they employ make it much easier for you to achieve success than if you go at it alone. All you need do is pick out the best practices that apply to your company and modify them to fit the situation you are facing.
We hope you found our presentation about UL508A: Complexities and the Importance of getting it right useful. If you would like to review your electrical panel the machines you build or just need some assistance, contact us. To further boost your knowledge of UL, its standards and listings and why it is important, you can read further or get additional info from UL directly. You should also stay in touch with us by signing up for our newsletter, and following us on our LinkedIn and Facebook pages to receive updates when we have promotions, stackable content and new blog posts.