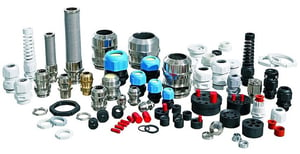 Cable glands, also known as cord grips and cable seals, may seem simple but they make cable management safer and easier. Their primary use is for passing cables and wires through a panel then attaching and securing cable ends within the equipment, but they have many more advantages. Cable glands are also used for gripping the earth conductor, metallic sheath, and the cable insulation. Besides that, they protect the end of the cable from twisting, can help with prevention of sparks, and possibly minimize exposure to fire. Furthermore, the cable seal also protects the enclosure against dust and pollutants, ensuring smooth functioning and lengthening component life.
But what about all the different types of cable glands, can we use any cable gland with any cable?
Just as every cable type has its unique size and specifications, no cable gland fits with every cable; the user must choose a suitable cord grip according to cable specifications and end product needs.
The following parameters must be considered in most applications when selecting a suitable cable gland.
The diameter of cable

The material of cable

The construction and purpose of the cable

The rating of the seal you will need to create

Review the max diameter of the cable gland in relationship to the cable used, being as close to the max range as possible ensures a proper seal and that you will meet the correct rating.
Choosing a cord grip and cable gland combination may not be as simple as it looks. Cord grips come in a variety of shapes, material, clamping styles, and specifications. So how do we choose a suitable cable seal and cord grip combination? Before choosing, ask yourself the following questions.
Do you need a cable gland for indoor or outdoor applications?

Will it be used in a secure and stable environment or will it be exposed to harsh environmental conditions?

Is it going to encounter any water, chemicals, oils, or gases?

Will this be used around high temperatures or high atmospheric pressure?

How much humidity is there around where the enclosure or machine will be installed?

At any point after installation will the cable be moving or bending?
These questions will help you decide what kind of cable gland will fit well with the requirements, but the actual specification is still yet to be decided.
For armored cables, there are more factors to be considered.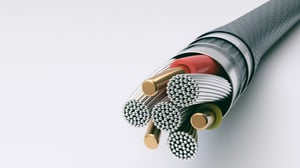 Inner bedding diameter
Lead covering diameter
Armor's short-circuit rating
Protective sheath's type and size
See our Armored Cable Glands here
In heavy electrical installation the cord grip specifications are different for armored vs non-armored cables.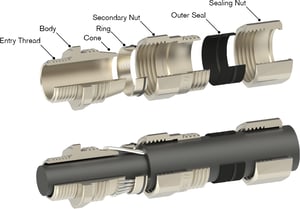 Armored cables usually contain metallic sheath which helps protect the cable against mechanical damages. Whereas a non-armored cable does not contain any protective layer and is vulnerable to mechanical damages. Since both cables differ in terms of protection, the parameters for choosing cable glands are also different.
Then in the case of shielded cables and EMC mitigation, even further requirements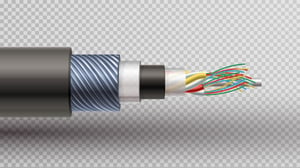 Cable jacket outside diameter for making the seal
Shielding outer diameter and making enough surface contact for a proper ground
Ease of use and installation of the EMC Cable Gland
Advancements in toroidal and triangular spring designs guarantee grounding of the cable shielding and make the installation process much easier and simple to follow for the installer.
Designers of machines and control systems must be looking out for things like EMI/RFI influences since the power cables can cause negative EMI/RFI affects on the system components. This is especially important around electronic instruments and data transfer applications, so the sensitive electronic devices work as you intended them too. Many EMC cable gland designs are complex and provide inconsistent results based on installer experience, skill level and willingness to follow a detailed installation procedure.
Complex Assembly: (several pieces to assemble and ground the shielding)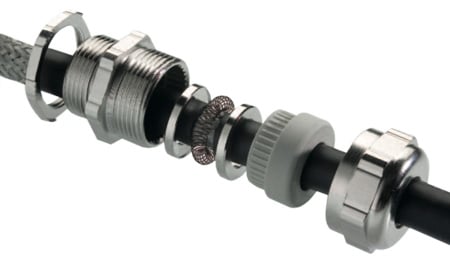 Simple Assembly: (captive seal inside dome nut, captive EMI spring inside body = 2 pieces)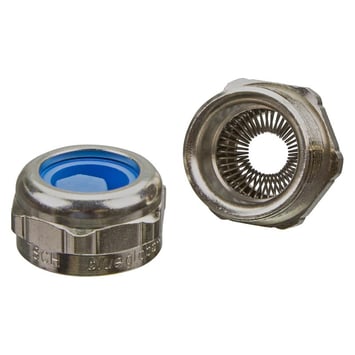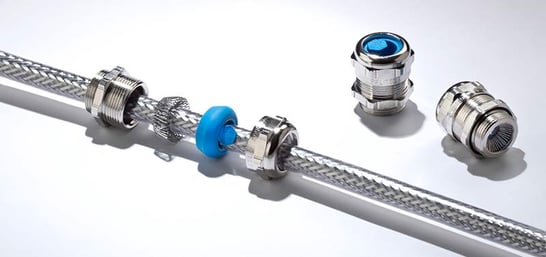 To understand which cable gland may be more suitable, let us look at a few of their unique properties.
Metal cable glands are suitable for rougher environments such as the chemical industry. They are highly-durable over time and perform well, even in humid conditions.
Plastic cable glands have a flexible design which makes them highly adaptive and suitable for various applications. They are water-resistant, salt-resistant, and less like to be affected by weak acids and grease.
But, if you are planning to use cable glands in special conditions, you must learn about some special materials and the sealing insert types too.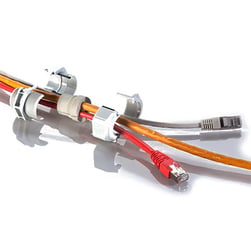 Split-able cable glands maintain an IP67 seal and allow for cables with connectors to be passed through panels and sealed
Explosion-proof cable glands can prevent small scale sparking and are designed to prevent explosions
Liquid-tight cable glands can be used in highly humid or wet environments and even underwater with the proper conduit
Fire-Prevention cable glands can be used in environments where the possibility of a fire exists and can limit the melting, mechanical breakdown, and release of toxic fumes
Want to read about Cable Gland Materials and their strengths or weaknesses?

When you are done with the major details, and ready make a final selection; consider these factors too.
Can all the cables fit through the opening hole of the gland, body, and dome nut?
Is the cable gland's wire range compatible with the cable diameter?
Is it large enough or should a multi-hole seal insert be used instead?
Have you considered the tolerances of the cable jacket and if it is actually round in shape?
Is the cable gland's IP, NEMA and pressure rating compatible with the application?
Does the mounting hole and thread match the cable gland size?
Is the enclosure or panel material compatible with the cable gland materials?
No doubt, for something that seems so simple, selecting a cable gland has many things to consider. Review our cable gland solutions here.
It may seem like a tiny unimportant piece of a system, machine, or electrical installation. However, an improper cable seal or cord grip can cause malfunctions or create an electrical hazard. It is recommended to avail the services of a technical person for application assistance and selecting the perfect sealing for your cables.