Walther-Werke
With over 100-years of experience in electrical engineering and as your top low-voltage distribution company, Walther-Werke offers charging structures for electromobility, power distributors, transformer stations, industrial connectors, socket combinations, and CEE-type connections. Walther-Werke has an uncompromising attention to detail, providing product accessibility and support to equipment manufacturers worldwide. Let's take a look at some of the top product lines they offer.
IEC 60309 Pin & Sleeve Devices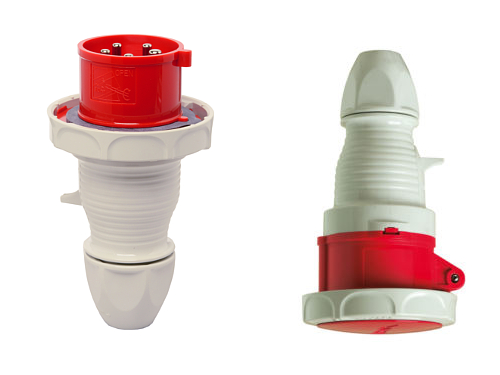 Built to IEC 309-1 and 309-2 specifications, Walther-Werke's new back shell 60 amp plug and connector is available in 3, 4, and 5-wire configurations with watertight (IP 67) and splash proof (IP 44) casing. Since the size and configuration of connectors and inlets are unique in accordance with their voltage and amperage, you'll never have to worry about coupling a plug with the wrong receptacle. Mismatched voltages could result in damage to equipment or even personal injury.   
PROCON Rectangular DIN Connectors
PROCON connectors have a variety of applications in mechanical and systems engineering, measurement and control technology, and light and stage technology. The rectangular shape allows for the best possible use of space and arrangement options in sectional steel and on switching cabinet surfaces or machine recesses where space is limited. Grommet, panel, and base coupling housing can be made of plastic, zinc, or aluminum, and offer a variety of locking types including central locking, longitudinal, and lateral.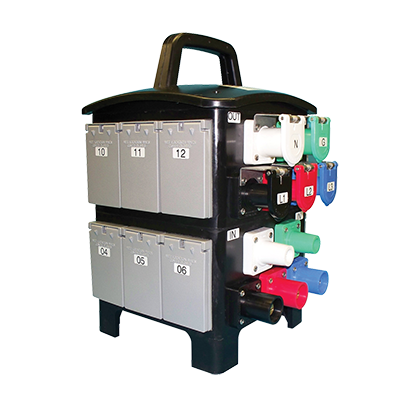 Custom Power Distribution Systems
Walther-Werke is happy to offer custom-built portable power distribution systems using standard NEMA wiring devices, CAM connectors, IEC309 pin and sleeve connectors, or any other connectors that meet your needs. These custom power distribution systems offer a non-conductive rubber enclosure, modular design allowing for multi-tier construction, and UV resistance allowing for outdoor use.
Mechanical Interlock Devices
Built to IEC 309-1 and 309-2 specifications, Walther-Werke's mechanical interlock devices are compatible with any IEC standard manufacturer plugs. This circuit breaker takes the place of a switch and is available in 20, 30, 60, and 100 Amp for North American ratings and 16, 32, 63, and 125 Amp for international ratings. Their mechanical interlock devices combine receptacles and disconnect switches into one device, eliminating the possibility of breaking a circuit under load. They're also designed for demanding work environments and are corrosion, dust, dirt, and water resistant.
Manual Disconnect Switches
The disconnect switches at Walther-Werke allow for a horsepower-rated switch in a durable NEMA 4X enclosure. To comply with OSHA standards and for optimal safety, the handle locks in the "OFF" position and the case cannot be removed until the switch is locked. When you invest in Walther-Werke manual disconnect switches, you can expect it to withstand demanding environments, corrosion, dust, dirt, and water.
Electric Vehicle Charge Stations
Walther-Werke is an industry leader when it comes to electromobility, offering vehicle charging stations for public, semi-public, and private use. With greater energy consumption and demand worldwide, more leaders are needed in the field of electromobility. Walther-Werke's charging stations offer a charging infrastructure that is an actively controlling element of a smart grid and incorporates many accessibilities and safety features for users and fleet managers alike.
These are just a few of the products Walther-Werke has to offer. With a global reach and representation through all of the world's key markets, you'll always have access to the products or services you need. Speak with our electrical control system experts at Dynamic Measurement & Control Solutions or visit Walther-Werke to learn more about their products.
Products:
IEC 60309 Pin & Sleeve Devices
Procon, Rectangular Din Connectors
Portable Power Distribution Systems
Mechanical Interlock Devices
Manual Disconnect Switches
Remote Access Interface Ports
Custom Power Distribution Systems