IEC Pin & Sleeve, Heavy Duty Connectors, Portable Power Distribution
IEC 60309 Pin & Sleeve Devices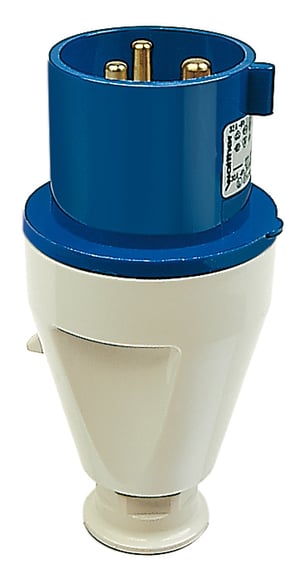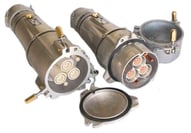 Built to IEC 309-1 and 309-2 specifications, our Pin and Sleeve Connectors are available from 16A through 125A. The configuration of plug and connector is available in 3, 4, and 5-wire configurations with watertight (IP 67) and splash proof (IP 44) casing. Since the size and configuration of connectors and inlets are unique in accordance with their voltage and amperage, you'll never have to worry about coupling a plug with the wrong receptacle. Mismatched voltages could result in damage to equipment or even personal injury.
Custom Power Distribution Systems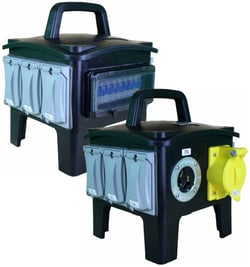 480V, 240V, 208V, 120V single and three phase portable power distribution units. We offers custom-built portable power distribution systems using standard NEMA wiring devices, CAM connectors, IEC309 pin and sleeve connectors, or any other connectors that meet your needs. These custom power distribution systems offer a non-conductive rubber enclosure, modular design allowing for multi-tier construction, and UV resistance allowing for outdoor use.
Dynamic supports temporary power systems for Contractors, Government Entities; such as Federal Emergency Management, First Responders, and Temporary Shelters.
Temporary power is also needed at events such as convention and exposition centers for trade show displays. Power sources are supplied for the displays, and at the conclusion of the shows, the power sources are removed with the PDUs stored until the next trade show. Our units also may be used as a permanent power source primarily where conduit/hard wiring is not possible. They are really quite simple to use and setup requires little time. Start with a power source – such as a generator – connect the power cable from the generator to the PDU power inlet. The unit is now energized and ready for use. All units have multiple receptacles that can be simultaneously used for different power needs. If you need a combination of outlets that is heavy-duty, industrial-quality, circuit breaker, and surge suppressor protected … We can build it!
SOLID-RUBBER CABLE BRIDGES And Custom Cable Assembly
Cable Bridge for protection of wires and cables from heat, humidity, corrosion, water intrusion and general physical threats. Made from heavy-duty SNR/NBR rubber, our
cable protectors
can withstand a load capacity of up to 9 tons and truck traffic at a max speed of 6 m/h ensuring cables remain safely housed against heavy volumes of vehicle or pedestrian traffic. Perfect for construction sites, entertainment, manufacturing or anywhere you need temporary power distribution.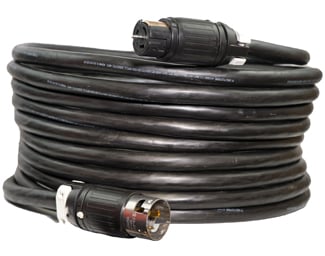 Cables
We design and builds cable assemblies and wiring harnesses from the most basic cable to a complex and challenging design. We manufacture rugged cable assemblies with heavy duty rectangular connectors, IEC, NEMA, CS, CAMLOK, or connector of your choice for industrial
power solutions. Our power cable assemblies are 100% pretested and labeled for easy installation & accurate tracking. Manufactured in a controlled environment, with industrial grade components, and engineered to the highest level of quality for reliability and safety.
PROCON Rectangular DIN Connectors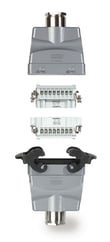 PROCON connectors have a variety of applications in mechanical and systems engineering, measurement and control technology, and light and stage technology. The rectangular shape allows for the best possible use of space and arrangement options in sectional steel and on switching cabinet surfaces or machine recesses where space is limited. Grommet, panel, and base coupling housing can be made of plastic, zinc, or aluminum, and offer a variety of locking types including central locking, longitudinal, and lateral.
Modular Inserts
Modular connector in Din IEC 61554 standard case sizes for power, signal,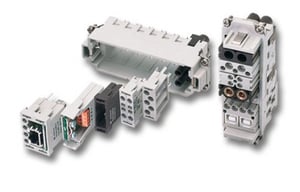 thermocouple, coaxial, fibre optic, pneumatic, hydraulic and bus connections.
Mechanical Interlock Devices
Built to IEC 309-1 and 309-2 specifications, our mechanical interlock devices are compatible with any IEC standard manufacturer plugs. This circuit breaker takes the place of a switch and is available in 20, 30, 60, and 100 Amp for North American ratings and 16, 32, 63, and 125 Amp for international ratings. Their mechanical interlock devices combine receptacles and disconnect switches into one device, eliminating the possibility of breaking a circuit under load. They're also designed for demanding work environments and are corrosion, dust, dirt, and water resistant.
Manual Disconnect Switches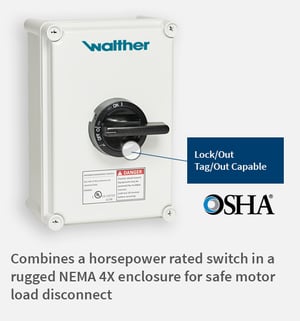 Disconnect switches are horsepower-rated and can be delivered in a durable NEMA 4X enclosure.
To comply with OSHA standards and for optimal safety, the handle locks in the "OFF" position and the case cannot be removed until the switch is locked.
Our horsepower-rated manual disconnects are available in 30, 60 and 100 amp ratings.
Type 4X enclosures are designed for the most demanding environments and provide protection against corrosion, dirt, dust, splashing water and hose-directed water.
NEC ARTICLE 430
Our Manual Disconnect Switches are designed to meet National Electric Code, Article 430-102, requiring a disconnecting means located within sight of the motor location and the driven machinery location.
Panel Interface Ports
The National Fire Protection Agency (NFPA) 70E Standard for Electrical safety Requirements for Employee Workplaces 2000 Edition was developed in conjunction with OSHA to define safe work practices for employees working on or around live voltage.
UNDER THESE CRITERIA, EMPLOYEES MUST DO THE FOLLOWING:
Be trained in safe work practices.
Mark electrical panels with proper warning labels.
Wear personal protective equipment (PPE) (safety glasses, face shield, flame resistant clothing, hand and arm protection (gloves)).
Under these new criteria, personnel who have not been certified as trained and wearing approved personal protective equipment, shall not open panels over 50VDC to program a device within the panel.

Using a Remote Access Interface Port allows you to comply to OSHA 29 CRF 1910.147, NFPA 70E and NFPA 79 Electrical Machinery Safety Standard 2002 Edition Sections
16.1.1 (6), 16.1.2.