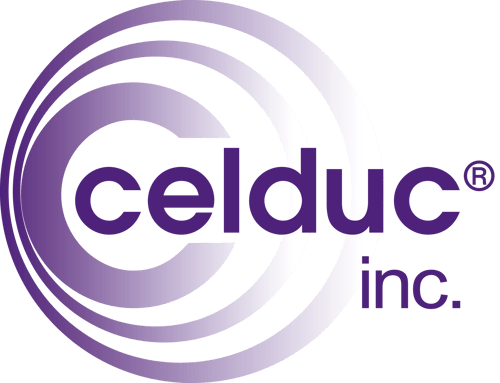 Solid State Relays
Commonly known as SSRs, Solid State Relays represent 70% of celduc® relais' turnover.
These innovative and very efficient devices are used to control all types of loads used across many industries.
The three major application areas are: industrial heating and temperature control, lighting control, and motor control.
The advantages of Solid State Relays (SSR) compared to ElectroMechanical Relays (EMR) are well known .
celduc® relais is the only solid state relay technology in France, where their products have been made for more than 50 years!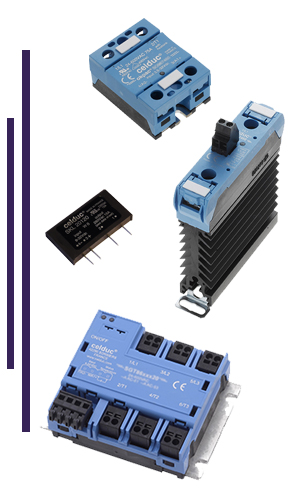 Discover our PCB mount SK range, available in various models; our SO okpac® range which combines innovation, performance and design; our SA & SU celpac® range, 22.5mm pitch solution; our SG4/SO4 phase angle controllers; our power SOD & SILD SSRs with diagnostic features, etc.
Our two-phase range consists of two solid state relays in a standard compact 45mm enclosure.
We offer various kinds of two-phase SSRs with Faston terminals or in an okpac® IP20 housing with removable connector. They are ideal for three-phase applications, only breaking two phases.
At celduc® relais we offer a wide range of solid-state relays for controlling three-phase loads.
–SHT range: designed in a single low profile package – this range of three-phase AC solid state relays is designed for medium power control in three-phase applications.
–SGB and SMB ranges: 2-leg three-phase SSRs
–SGT 2G range (2nd generation): the cel3pac range is a standard three-phase range with different connections available for power wiring (connected using screws or spring terminals) and for control wiring (connected using screws or with a 4-pin pluggable spring connector)
–SMT range: the sightpac range is a compact 45mm version
–Three-phase contactors : "ready to use" versions with heatsinks are available.
These products are manufactured in compliance with UL/CSA/cUL, CE & RoHS international standards.
In its range, celduc® relais has a four-leg Solid State Relay which provides four solid state relays in a compact standard 45mm enclosure.
Faston terminal power connections.
celduc® relais offers a complete range of solid state relays up to 1700Vdc, 0 to 150A for DC applications.
Typical applications:
-DC power supplies (converters such as choppers, inverters, etc.)
-Batteries (ships, solar energy, etc.)
-Heating elements (air conditioning in trains, trams, etc.)
-Signal switching (testing equipment, etc.)
-Electromagnets (induction motor braking, etc.)
-DC motors (electric overhead travelling cranes, vehicles, etc.)
Power SSRs with diagnostics
Our power SOD and SILD SSRs with diagnostic features indicate the status of the SSR and the load (resistive load) without an external power supply.
This range is patented. Status output can be chained.
Fault condition alarms:
– Line or load open
– Short circuit output
Motor control has always been a complex process. This is because a motor is, first and foremost, an inductive type of load, with high starting currents (which doesn't help reduce the size and cost of protection devices like fuses) and over voltages generated at turn-off. This is why Solid State solutions are becoming more widely used to control motor loads. Another big advantage of using power electronics is that numerous control modes can be easily performed thanks to very fast response times and the computing power of microprocessors. celduc relais is a specialist Solid State Relay manufacturer in France. It has a complete range of first-rate Solid State Contactors for motors, soft starters and motor reversers.
Temperature controller, Current monitor and Communication interface in one unit
Option available for the celpac 2G SU SUL range.
Magnetic Proximity Sensors
Used for monitoring or controlling levels, clearance, movement, position and rpm recording. The sky's the limit for these versatile sensors. These sensors are used everywhere in consumer goods or industrial sectors, such as in the automotive, aircraft and telecommunication industries.
They are also widely used in many automation applications in the manufacturing sector.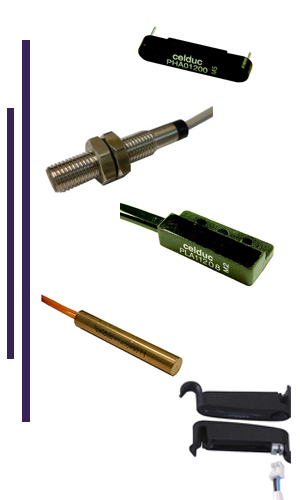 celduc relais has a large range of standard or specific level sensors using reed switches. Our sensors are available in a plastic, brass or stainless steel housing, making it possible to use them with various chemical substances and/or operating temperatures.
Screw position sensors – PAA-PAB-PLA-PLB-PLA-PSL-PSC-PXLA

Screw position sensors – PB-PBA

Tubular position sensors
celduc relais offers a wide range of presence and position magnetic proximity sensors. These sensors are mainly used in industry or in the home as window sensors, door opening detectors, in household appliances, etc.
M8 housing in plastic or stainless steel

M10 housing in plastic or stainless steel or raw brass
Typical applications: -Speed, presence, position, clearance sensors
Sensors for layout on PCB
Reed switch proximity sensors in a plastic housing, for PCB hassle-free mounting.
As of July 1, 2006, all installations with a potential risk of explosion (gas and dust) have to be manufactured in compliance with the ATEX 2014/34/UE directive. Over the last few years, at celduc relais, we have acquired greater expertise in and made improvements to our ATEX products, in particular sensors and relays for ATEX-specific applications.
celduc relais is a notified manufacturer of ATEX products: notification number INERIS 04ATEXQ406 and it offers a wide range of ATEX sensors. We have also developed specific products, such as magnetic sensors used to detect that a fuel dispenser nozzle has been correctly reattached after fuelling, position sensors used in the petrol industry, motor control modules for paint mixers (to detect the presence of solvents), etc. We can provide customised solutions to meet your needs! All the technical data sheets for our products which fulfil the ATEX 'EX' requirements for explosive atmospheres are available on our website.
Typical applications:
– Lifts: sensors with 2 or 3 normally open contacts are used to detect the position of the cabin and are also used as an automatic level reset according to the weight in question.
– Position/clearance sensors.
At celduc relais we have a large range of magnetic safety sensors. Associated with their respective, coded magnet and a controller module capable of monitoring 1 or more "O" contacts (normally open) and/or 1 or more "C" contacts (normally closed), they comply with the 2006/42/CEE European Directive for machinery safety.
Autonomous safety sensors
Autonomous safety sensors with coded magnetic technology and an integrated safety module. Your safety is ensured!
Sensors for windows frames
This new range has been developed to detect the position of a window: i.e. open or closed.
"Reed" Relays & Switches
Our Reed switches are used in our own magnetic proximity sensors & reed relays. Tried and tested, they can last for over 50 years. The range meets the demands of an increasing number of new applications, thanks to their ease of use, compact size and reliability.

REED Switches and mercury tilt switches

REED Relays in DIP enclosure

REED Relays in SIP enclosure

High voltage relays