Terminal Blocks, Power Distribution Blocks, Connectors, Panel Feed Through Cable Frames, Wire Termination, Wire Duct and Wire Marking
Terminal Blocks
Full range terminal block manufacturer Push-In, Spring Cage, Screw Clamp, Stud and terminals. Options include feed-through terminals, component terminals, and double-level terminals. The PRK terminal blocks with Push-In wire connections have distinct advantages over other existing terminal block systems. Our solution permits solid and stranded wires to be inserted using minimal force and no tools. The Push-In spring ensures high contact force. The wire can be removed using the built-in insulated pusher; this mechanism ensures that the terminal point is safely actuated and wire released or inserted without touching the electrical portion. This results in significant time saved during the wiring operation. The extremely compact terminals ensure high current carrying capacity and available in six different cross-section ranges from 1.5 mm² to 16 mm², with 2-, 3- and 4-wire variants for connecting wire cross-sections from 0.34 mm² to 25 mm².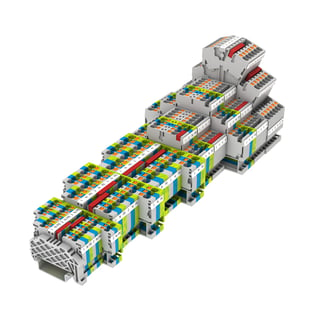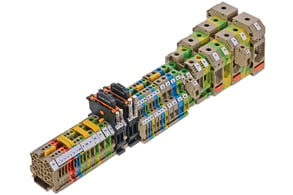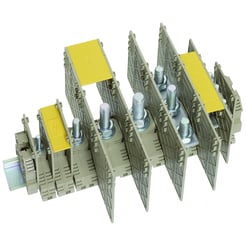 Power Distribution Terminal BLocks
SINGLE PHASE POWER DISTRIBUTION BLocks
THree PHASE POWER DISTRIBUTION BLOCKS
SPLICE TERMINALs
UL 1953 approved Terminal blocks
The screw power distributor block makes it possible to distribute potential and power in a compact space without any additional accessories. You can use the distributor block to establish an electro-mechanical connection between a wire with a large cross-section with one or more wires with small cross-sections. They can be used in utility installations, power distribution boards and also in machine power control. c The SVBA blocks are mounted by snapping them on to TS 35 DIN rails. They can also be attached directly to a mounting plate using the screw flange located on the side of the housing. The individual blocks can be simply clicked together using a plastic connecting clip.
Rated for 1000V AC/DC and up to 1100A
Suitable for aluminum and copper cables from 1.5 to 500 mm2
Color coded phase tags for clear marking
Wire Management System
Cable Management systems for passing wire and cable through your panel. The KDSClick system features a modular design, consisting of only three types of basic components: frames, inlays and sealing sleeves. Unlike conventional systems where the frame must be opened to insert the sealing sleeve and then screwed shut, CONTA-CLIP uses a dimensionally stable solution with a one-piece lightweight frame and gasket combination made from fiber-glass reinforced plastic. These cable frames allow tool-free assembly and IP66-sealed feed-through of unassembled and assembled cables and hoses. The feed-through openings can also be customized to meet unique requirements. The SAB shied-connection clips can be used to provide a reliable shield contact with conductor diameters from 3 mm to 35 mm.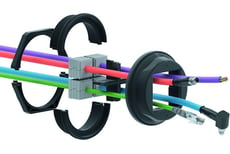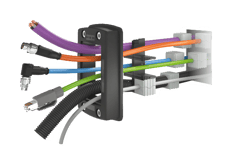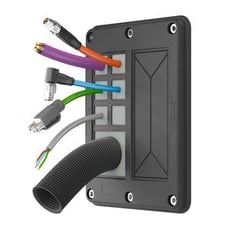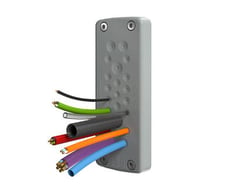 Inserts and Frames
The KDS screw frames are available in 4 different sizes. The inlays make a wide variety of combinations possible.
Flange plates
The KDS-FP flange plates are available in 2 different sizes. The inlays make a wide variety of combinations possible.
Cable entry system for flat cables
The KDS-FB cable entry system for flat cables provides you with outstanding versatility. It also saves you time while managing cables, especially for industrial trucks, crane systems and elevator applications.
CONTA-ELECTRONICS
CONTA-ELECTRONICS includes products that are necessary for modern machinery and production to operate and work effectively. This includes timing modules, cellular monitoring modules, signal conditioning components, power supplies and more.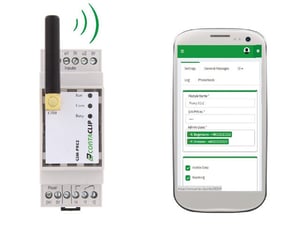 CONTA-CON
Connectors and PCB terminals can be used to design circuit board connections in the most efficient and user-friendly way possible. Additionally, terminals allow for connectivity solutions that are safe and are the most economical solution to your needs.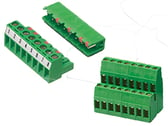 Read below for an outline of products that are offered and contact DYNAMIC today if you would like to request a document or schedule a consultation.
Dynamic provides you with reliable products in wire termination technology. Our products comply with international safety standards, are available worldwide. Providing products in wire connection technology field (CONTA-CONNECT), electronics (CONTA-ELECTRONICS) and PCB connectors (CONTA-CON), We have a full range of products for industrial manufacturers and machine builders. We are big enough to have a major impact on a national level but small enough to provide you with specialized support you need.